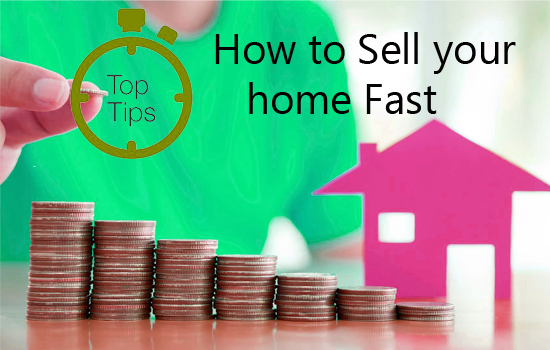 You might be experiencing a stressful situation to sell your home on the real estate market. Finding a realtor is a tiresome job and even if you find a genuine one, you can't be sure that your house will be sold quickly. It might take from days to months to complete the entire process. How to sell your home fast? You can follow some smart ideas to sell your home in a fast manner. Read on the following 5 easy suggestions which help you to sell your house and get a fair deal on it.
Fix the correct price for your home
You need to price your house right, since the home buyers are aware of the facts and statistics. There are chances that your bid gets declined easily if you overprice the house. So you can get an idea of the market value price of your home by enquiring the previous house sellers in your area or just Google it.
As per experts your first 30 days activity in house selling market will decide the success of the house selling job. So, while making your first move you need to be careful and decide the correct price of your home. You might be thinking of asking the high price at first and then negotiating with the buyer. But you are at a high risk because the buyers will stay far away on seeing the high price.
Give Your Home, a Pleasant Look
Enhancing the appearance of home may help you to sell your house quickly. You have to clean it up and make it look like it was someone else place. You may also decorate it with simple things. But don't do major renovations by spending thousands of dollars. You may or may not get that money back while selling the home, so it's better to avoid it.
Switch to Digital Marketing
You can sell your home easily in America by availing online home selling services. Submit your basic info online and they will contact you for further processing. Soon after analyzing the market value and other information they will contact you and offer you cash. On accepting the offer your home will be sold. Instead of spending high brokerage fees for a realtor, you can go for this option as it will benefit you in all the ways.
Inspect the house
A thorough inspection of house is needed before selling your house. Detect the minor flaws and try to get rid of it. You can also do some small improvements if needed so that it would be easy to sell the house without hassle.
Beware of some facts!!
You can take many pictures of house and advertise it. But never give wrong information or over price your house as it may lead to immediate cancellation of process. You need to keep the documents of the house ready always.
Usually spring is said to be a right season to sell a house, but if you are in a hurry to sell your home and move to a new place then it won't apply for you.
These simple tactics and tricks may help you to attract more buyers and makes the home selling process way a lot better.